Bigfoot Carcass Set For Analysis
Just got sent the link to this story posted on
CNN
, from Danny.
"A policeman and a former corrections officer say that on Friday they will unveil evidence of what they claim is their biggest find ever: the body of Bigfoot.
Matthew Whitton and Rick Dyer, a pair of Bigfoot-hunting hobbyists from north Georgia, say they found the creature's body in a wooded area and spotted several similar creatures that were still alive.
The carcass of the furry half-man, half-ape is 7 feet, 7 inches tall and weighs more than 500 pounds, they say. However, the two are not disclosing the exact location of their discovery to protect the remaining creatures."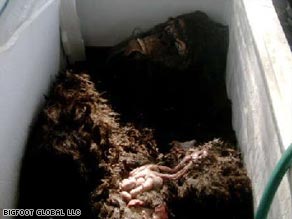 After a quick Google search I found the two have their own
website
online.
A few weeks ago I read an article in the
City Paper
about a local bigfoot tracker, William Draginis, here in NoVA. I am thoroughly intrigued
about the prospect of a sasquatchian creature out roaming the lands undetected for so many years. But the eternal skeptic in me, is always there to stand on my shoulder shouting for proof.
The City Paper notes, "The duo has enlisted
Tom Biscardi
, a noted Bigfoot researcher since the 1970s, as their defacto spokesperson. But Dranginis, the president of the Virginia Bigfoot Research Organization, points out that Biscardi has been involved in a hoax before. In 2005, he claimed he had captured a Bigfoot weighing over 400 pounds and standing 8 feet tall. Turned out to be a publicity stunt."

We should find out later today if it's a hoax or not, as the duo have a press conference scheduled.
Date: Friday, August 15, 2008
Time: From 12Noon-1:00pm
Place: Cabana Hotel-Palo Alto, 4290 El Camino Real
Palo Alto, California


************************
[UPDATE]
Well it panned out to just be a publicity stunt.
From the City Paper:

At this point, all signs appear to point to some combination of hoax, scam, or publicity stunt. And a transparent one at that, according to
Wired
: "Casting further doubt on the pair's announcement is analysis by several bloggers showing that their photograph bears an uncanny resemblance to a commercially available Bigfoot costume."

And the folks over at
Zimbio
have some humorous coverage.